(First published on time.com and used with the written permission of the author and publication of first instance.)
By Ed Grant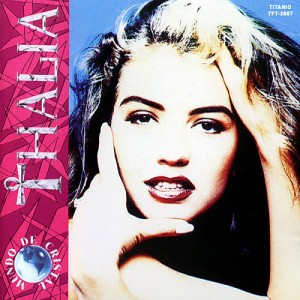 Sure, Madonna got married. So what? Hard-core media junkies like myself have grown weary of her constant struggle to devise new identities, and her highly publicized wedding to filmmaker Guy Ritchie was such a tired fait accompli — "the Material Girl finally goes domestic!" — that it'd be fair to say it produced no broken hearts among male pop fans. On December 2, 2000, however, I'm a proud enough fanboy to admit that I felt a slight twinge of envy when Latin music megastar Thalía, 28, tied the knot with music mogul and Mariah-molder Tommy Mottola, 52, in a $3 million wedding ceremony at New York City's St. Patrick's Cathedral.
Though a superstar in her native Mexico and many other countries from Greece to the Philippines, Thalía is only known in the U.S. to one large section of the populace, namely those who follow Latin pop music (you know, the kind MTV refuses to air at any time — the kind in Spanish) and regularly watch the telenovelas seen on the three Spanish-language networks. Thalía's fans as a whole have been politely avoiding the somewhat Faustian aspect of her romantic merger with Mottola, but the tabloids, both in English and Spanish, haven't been quite so kind. She's been portrayed in English publications as a young Latin soap star positioning herself to be "Mariah II," while Spanish publications have printed as many pictures as they could obtain of her publicly nuzzling her older beau — elaborating how much money and influence Mottola has. The conclusions were implicit: Mottola chose another gorgeous younger woman, but this time he picked a foreign one to avoid the sort of problems he had with Carey (who conducted bitter public arguments with her "starmaking" hubby); Thalía, having already noted in many interviews that she was "too busy" to sustain a relationship at this stage of her career, suddenly found her "twin" in a man whose wiseguy-wannabe wardrobe earmarks him as a conspicuous consumer (he constructed a $10 million mansion for Carey, in which he installed a fully functional recording studio). It's enough to make a fan like myself shrug, sigh, and simply try to forget it all by remembering the intial thrill of discovery….
DIEHARD CHANNEL SURFERS RENDERED CATATONIC by the pabulum served up by the networks and basic cable channels have always known that the most vibrant, unpredictable entertainment can be found on the foreign-language channels, particularly the three Spanish networks. Those of us who studied the language in school but get lost when people begin to hablar rapidamente (talk quickly) can still follow and become absorbed by Spanish-language telenovelas, variety shows and music programs. Fans of vintage movies and TV shows will find formulas they recognize, but the passion and spontaneity with which they are carried out makes one thing certain: The most routine program on Univision is a thousand times more compelling than the sad fare being offered up on Nick at Night these days (when "Facts of Life" becomes "classic TV," it's time to fold up your tents, fellas).
I first encountered Thalía (pronounced Tah-LEE-ah) on "La Movida," a late-evening talk/variety program. About 20 at the time (1992), Thalía was already a showbiz veteran (she started in her first prefab band at the tender age of nine). Her look was what struck home first — a lithe, energetic brunette with a white streak running through the front of her manelike hair, clad in a series of outlandish, eye-catching outfits. Her songs were the next aspect to register — an assortment of well-crafted pop tunes with clearly salacious overtones. The coup de grace was the interview segment, in which the sexpot singer talked quietly and sweetly about her career, her fans and her then controversial image. The show's apparently minimal budget, erratic choreography and abysmal sound quality made the experience all the more charming. Thalía's one number in English was a heavily accented version of "Diamonds Are a Girl's Best Friend," done in full Marilyn regalia. Here, it seemed, was a young woman truly unafraid of comparisons with the then-still-vital Madonna.
After this appearance, I began keeping an eye out for Thalía on Spanish television. The discovery of her music videos quickly converted me into a camp follower. A little background: Ms. Sodi (Thalía was born Thalía Ariadna Sodi Miranda on August 26, 1972) first achieved fame in a prefab teen band called Timbiriche, a Menudo-esque combo. I have not been blown away by their performances, but they did make a noteworthy guest appearance on a rather startling 1987 Halloween special that has run over and over again on Galavision. "Noche de Brujas y Terror" ("Night of Witches and Terror") is an eye-popping, no-budget Mexican TV reworking of "The Rocky Horror Show" (which features Spanish versions of "Over at the Frankenstein Place" and "Hot Patootie").
Within three years, Thalía had left the band, but she wisely maintained — thanks to her manager mother, Yolanda — her connection with the Televisa organization, which conveniently owned the Timbiriche concept, a record label and several radio and TV channels in Latin America and the U.S. The result was the making of a star — and some of the '90s' flashiest, most memorable music videos, never seen (natch) on MTV.
The videos that promoted Thalía's first three early-'90s solo albums, along with a dazzlingly outlandish TV special called "Love," set up Thalía's musical persona: a "good girl" who became a sex kitten on stage, singing songs with titles like "Sangre," "Sudor" and "Saliva" ("Blood," "Sweat" and "Saliva"). Her costumes were outrageous and provocative, and her production numbers brought to mind (for those of us who keep track of excesses from all eras) the best moments of Ann-Margret and Nancy Sinatra — although even Ann and Nancy never came on variety shows decked out as an Aztec goddess, a female boxer or a geisha girl.
After she became hugely popular, Thalía leapt from the Fonovisa label to EMI Latin, which funded two of her most outrageous, unforgettable videos. The sublimely tongue-in-cheek "Gracias a Dios" finds Thalía singing her thanks to God for giving her a good man — as she proceeds to playfully torture a captive shirtless male in an abandoned warehouse. The beefcake hero is straddled and shaved with a straight razor, drenched with a hose, and suspended upside down as Thalía, wearing a Louise Brooks wig, draws a sweet lil' heart on his chest with her lipstick. Fitting neatly into the "most memorable image" category is the sight of our heroine offering this dunce a "last cigarette" — and then lighting it with her candelabra brassiere!
"Gracias" never fails to delight more broad-minded viewers, but it is more than equaled by another of Thalía's wonderful acts of provocation, "Amor a la Mexicana." As this charming tune about loving "in the Mexican style" proceeds, one is put in mind of actor Ricardo Montalban's famous criticism of the stereotypes that Mexican people have been saddled with for decades: "the lazy Mexican, the bandito and the Latin lover." In the "Amor" video, Thalía and director Benny Corral revel in these stereotypes right from the opening shot, in which the lovely Ms. Sodi lies in a hammock, waiting for her Latin lover boyfriend to arrive (the gent is decked out — you guessed it — in the familiar bandido/"Cisco Kid" style) After a cockfight, some fireworks, a Frida Kahlo reference and the classic train-going-into-a-tunnel shot, the video reaches a sort of crescendo when Thalía is nearly grazed by her boyfriend's flying machete… but then she and her "macho" settle down to devour a nice juicy watermelon (one can almost hear Corral chuckling as the Freudian symbols fly by). Though none of her videos have topped the two described above, it should be noted that our gal elegantly sports a Salvador Dalí–like shower-faucet brassiere in "Piel Morena"; tells us about the strength of women of Hispanic heritage while lookin' good in green hair (!) in "Mujer Latina"; and is chased through the jungle by cannibal tribesmen in one of her earliest videos, "Un Pacto Entre Los Dos."
Thalía's more recent videos haven't been as adventurous visually, but her latest album, "Arresando" does contain two incredibly catchy singles — one of which, "Entre El Mar y Una Estrella" had a stay in the Top 10 of Billboard's Hot Latin tracks — and two excellently chosen cover tunes, Perez Prado's "Menta y Canela" and Miriam Makeba's chronically hooky 1967 hit "Pata Pata" (both of which could have been rendered in English now that Thalía is comfortable with the language — but more on that below). I have to emphasize, though, that even if she never recorded a single song, her work in various telenovelas would still qualify her as a major Latin American star. To provide a point of comparison, the shows that established her reputation as an actress are less like American soaps than they are the quintessence of what old movie buffs refer to as "the woman's picture."
THANKS TO THE RERUN MILL AT BOTH GALAVISION and Univision, there hasn't been a month in the past few years when one of Thalía's last four soaps hasn't been on the air in America. In fact, Thalía's official web site notes that "close to a billion people around the world" have seen them. She hit her stride in 1992 with the wonderfully melodramatic "Maria Mercedes" and achieved superstardom with her next series, "Marimar" (1994) and "Maria la del Barrio" (1996). The shows are collectively referred to as the "Maria trilogy" by fans, and all three shows were produced by the husband-and-wife team of Valentin and Veronica Pimstein. Accordingly, Thalía's break with the Pimsteins, a novela called "Rosalinda" (1998) was much less popular with the viewing public, lacking as it did the flagrant emotionalism and near-frenzied edge of the earlier shows. The "Maria" novelas are all Cinderella stories: Thalía is a dirt-poor girl who meets a handsome man who, with his love, transforms her into a confident, dignified beauty. As she rises in society, she goes from wearing a shabby wardrobe (an Elly Mae rope belt, a Jughead-style cap) to sporty designer dresses that have the sort of big-shoulder action made famous by Linda Evans on "Dynasty." (Thalía, it should be noted, is a good deal smaller and slimmer than Ms. Evans.) Lurking on the sidelines, waiting to ruin Thalía's life, is a scheming villainess related to Our Heroine. With her boyfriend/husband's help, Thalía is able to overcome the gruesome plans of the evil relative — usually involving Our Heroine's being confined to a prison or a mental institution — and live happily ever after.
The second series, "Marimar," is generally agreed to be the best of the Pimstein shows. This may be due to the fact that male viewers enjoyed Thalía's appearances in a tattered shift (the only piece of clothing her character wears for the show's first few weeks) and a mermaid costume. But the show's general appeal clearly lay in the fact that it is the ultimate new-fangled-yet-old-fashioned take on Cinderella, with the villainess in this instance being a megabitch sister-in-law, who not only has her henchman kill Thalía's grandparents by setting fire to their flimsy beachfront shack, but then takes pleasure in giving our woeful heroine the bad news!
The extreme mix of suffering and redemption that characterized the "Maria" trilogy may well be the element that made the shows so incredibly popular. The same cannot be said for her one feature film, the U.S.-produced, English-language comedy "Mambo Cafe." An affable urban comedy about a failing eatery in Spanish Harlem, the movie stars Thalía as a New York–raised Puerto Rican who has developed airs since being enrolled at Boston College. Her performance is endearing, but the film wound up going straight to video.
Thalía's legion of fans have delighted in the versatility shown by their princesa: Throughout the '90s she maintained a demure image in her novelas and interviews, and was a fiery sex symbol in photo shoots, on stage and in music videos. The latter persona is complemented by the often campy nature of her costumes and production numbers, which has gained her a loyal following among Latin American drag queens, who dub themselves "Thalíos."
What does it all mean? That she, like any great star, is a blank slate on which any member of the public can write his or her own particular fantasy. Her response to the question of whether she, privately, is more like her "Marias" or the flashily dressed, seductive chanteuse, is a carefully measured one: "The public can choose how they want to see me. Some like the image of a tender girl, the poor girl of the soap operas. Others see me [as] more aggressive, strong, the way, I am sometimes on stage… I let my fans decide…"
During the late 1990s, I and many other devotees were irritated by the fact that Thalía, and a host of other extremely talented and charismatic performers, barely rated a mention in the hype that surrounded the so-called "Latin invasion" of American pop. For MTV and VH1, the "invasion" boiled down to two people: Ricky Martin and Bronx-bred actress Jennifer Lopez (with Marc Anthony running a distant third). This grated because Thalía and another talented performer, Colombian singer-songwriter Shakira, were both being groomed at the time for an "imminent" crossover to the English-speaking market by producer Emilio Estefan, husband of Gloria and Mottola's best man at the St. Pat's ceremony. Estefan has produced enormously popular albums for both women, and has continued to tout the fact that both will cantar en ingles very soon, but there have been unavoidable "delays" in getting their crossover started. In the meantime, however, fans of both younger performers have noticed that elements of their wardrobe and hairstyles, the visual styles of their music videos and other key components of their images have shown up in the MTV-friendly, English-language videos of Gloria Estefan. Curiouser and curiouser…
SO WE WIND UP BACK AT ST. PAT'S WITH Tommy and our heroine (two individuals who don't practice Catholicism, incidentally), the latter wearing a 150-pound gown with a 52-foot train (Mariah's had trailed only 26 feet), as they get married in a church filled with celebrities for whom one name only is sufficient (De Niro, Michael, Brooce, Ricky, Julio and — Danny De Vito?). In the meantime, though, the throng that stood for hours in freezing weather outside the church, blocking Fifth Avenue traffic for two full blocks, weren't there to catch a glimpse of the aforementioned superstars. Nor were they really interested in the billionaire businessman who happened to be the groom. Mottola's achievements in the music industry are, to be fair, quite impressive, but they can basically be boiled down to three key events: 1) Gifting the two music video channels with the leggy Ms. Mariah; 2) signing Michael Jackson to Sony Records for an obscene amount of money (since which time, due to various factors, Jackson's sales have declined steadily); 3) being mentioned in the first line of the wonderfully tacky disco hit "Cherchez la Femme" (1976) by Dr. Buzzard's Original Savannah Band.
No, the fans weren't clamoring for Tommy. They were there to see their "Maria" wearing a wedding gown once more (the Pimstein novelas usually ending with Dickensian, tie-up-all-the-loose-ends wedding sequences). Their heroine has openly addressed the notion that she had became involved with Mottola to further her career: "I don't need anyone to make me," she was quoted as saying in Latina magazine. "I've already made it."
Some of the fans on the Internet discussion boards that appear on the many lavishly designed and picture-filled web sites consecrated to Ms. Sodi offered another possibility: Thalía's interest in "Don Tommy" could be better understood as a father fixation, since Ernesto Sodi's death when daughter Thalía was five years old is often cited as the formative experience of her youth. Whatever the case may be, Mottola's acrimonious split with his last wife gives many followers a feeling of unease: This time Tommy may actually succeed in caging his songbird wife, as Carey had publicly accused him of attempting to do with her.
There's a big difference this time around, though, Tommy, old boy. Last time you made your wife a star; the woman you're married to now already is one, and a pretty major one at that. Do her fans a favor, will ya, and give her career a nice nudge into crossover territory — why not let the rest of the U.S. see what's it been missing for the last decade? There are too few "Marias" in the world — and far too many achingly dull "divas" like Whitney and Gloria. We need to continue to be surprised and entertained by the young woman who once said, in a moment of joyful outrageousness, "Soy la mejor terapia contra la depresion" ("I am the best therapy for depression").
c. 2001, 2013 Ed Grant