STUDIO: Olive Films | DIRECTOR: Robert Altman | CAST: Sandy Dennis, Michael Burns, Susanne Benton, Luana Anders, Michael Murphy
BLU-RAY & DVD RELEASE DATE: 2/26/2013 | PRICE: DVD $24.95, Blu-ray $29.95
BONUSES: none
SPECS: R | 107 min. | Drama | 1.37:1 widescreen | stereo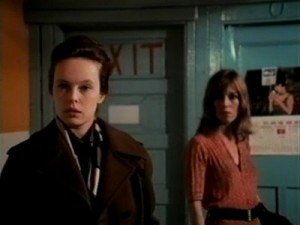 Just before his fortunes changed forever with the monster success of M*A*S*H, Robert Altman directed this sadly underseen 1969 U.S.-Canadian co-production that's a menacing rewrite of The Collector with the genders of the main characters switched. This Olive release represents the U.S. debut of the film on DVD and Blu-ray.
The late Sandy Dennis is at her impeccable neurotic best as a well-off "middle-aged" woman (she was actually 32 at the time of the shooting) who takes in a handsome but shifty young mute (Michael Burns). As the film moves on, we learn that he is only pretending to be mute, and that she will do literally anything to make him stay in her luxurious apartment, including locking him in.
The film starts off as a moving yet subtly disturbing character study and concludes in full thriller mode. It qualifies as the first dreamlike feature from Altman, clearly prefiguring his later cult masterworks Images and 3 Women.
What is remarkable about That Cold Day… is that Altman's style is so fully formed in this, his first "personal" picture. The only hallmark of his style that's missing — one that he had used as much as he could in his preceding TV work — is overlapping dialogue (heard here only once, when Dennis visits a clinic to obtain birth control).
Contributing to the film's dreamy atmosphere is the expertly fluid camerawork of Laszlo Kovacs (Easy Rider) and the graceful precision of Dennis' performance. Best remembered these days for her work in broad comedies like The Out of Towners, she was in fact at her best in touching, low-key character studies (Up the Down Staircase). Here she taps into her crazier side, cast as a woman who appears helpless but could in fact turn violent (but only will as a last resort….).
There are no extras on the disc but it is truly a must-have for Altman cultists: one can only hope that his two remaining "missing" theatrical features get DVD releases soon— HealtH and his other collaboration with Sandy Dennis, Come Back to the Five and Dime, Jimmy Dean, Jimmy Dean.