STUDIO: Criterion Collection | DIRECTOR: Lars von Trier | STARS: Charlotte Gainsbourg, Willem Dafoe
RELEASE DATE: 11/9/10 | PRICE: DVD
 $39.95, Blu-ray
 $39.95
BONUSES: audio commentary by Lars von Trier; onscreen interviews with Charlotte Gainsbourg and Willem Dafoe; featurettes; footage of the 2009 Cannes Film Festival; essay by film critic Ian Christie
SPECS: NR | 108 min. | Drama | 2.35:1 widescreen | stereo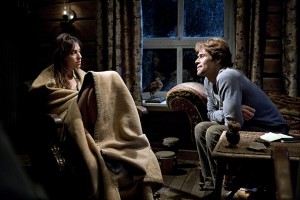 Now on DVD through the acclaimed Criterion Collection, Lars von Trier's (Melancholia) art house film Antichrist, a confrontational and controversial film about a couple undergoing a very different kind of marital crisis, is either loved or hated by viewers.
For fans, the Criterion edition contains a whole disc's worth of bonuses, plus a feature-length director's commentary, which might not fully explain the film's darker, more mysterious events, but goes a long way toward showing how the movie provided a personal catharsis for von Trier.
The plot of Antichrist is a minimal affair in which a wife (Charlotte Gainsbourg, The City of Your Final Destination) suffers anxiety attacks after her baby dies accidentally, and her therapist husband (Willem Dafoe, Spider-Man) decides the two should retreat to a cabin in the woods to work through their troubles. The film turns supernatural midway through, as the wife is seemingly possessed by evil spirits — or is she physically torturing her husband because she has lost her mind?
Von Trier's commentary, hosted by critic Murray Smith
, supplies no ready answers, but von Trier does identify himself with Gainsbourg's character, as he explains how he suffered from a deep depression during the shooting of the film. He also offers up the secrets of the film's gorgeous visuals, which he modeled after the work of his hero, the late Russian filmmaker Andrei Tarkovsky (1972 Solaris). Aiding von Trier in crafting these images was a camera that creates exquisite slow-motion photography by shooting at 1,000 frames a second.
On the DVD, a septet of official behind-the-scenes documentaries is augmented by footage of the 2009 Cannes Film Festival, where Gainsbourg won Best Actress for Antichrist. She speaks in a lengthy (45-minute) interview shot for the French release of the film, noting that acting in the slow-motion sequences was like living "in an oil painting" and defending von Trier against charges of misogyny by exploring her personal connection to her character.