STUDIO: Olive | DIRECTOR: Hal Hartley | STARS: Adrienne Shelly, Martin Donovan, Merritt Nelson, Edie Falco, John MacKay, Karen Sillas
RELEASE DATE: 1/22/13 | PRICE: DVD $24.95, Blu-ray $29.95
BONUSES: "Upon Reflection: Trust" featurette
SPECS: R | 107 min. | Comedy drama | 1.78:1 widescreen | Dolby Digital mono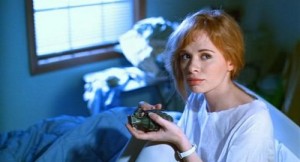 Hal Hartley occupies a very singular place in American independent film. Although he arrived on the scene 25 years after the movement began with John Cassavetes and Shirley Clarke (with The Unbelievable Truth, 1989), his work — along with that of Jim Jarmusch — has had a sizable influence on today's "indie" filmmakers.
Most of Hartley's best work (Henry Fool, Amateur, Fay Grim) has been accounted for on DVD to date. But Trust, his second and arguably finest feature, has been MIA until this very welcome Olive release. The 1990 film serves as the perfect introduction to Hartley's idiosyncratic, deadpan style and has retained all of its power as a touching and funny misfit love story.
Adrienne Shelly (Waitress) stars as a Long Island teen who finds out she's pregnant shortly before she first meets an expert repairman (Martin Donovan, TV's Damages), who is quiet and reserved until he feels "like smashing things up." Both characters live with domineering parents and both are dying to leave behind their dead-end lifestyles.
The beauty of Trust lies in its deadpan humor and reserved but very poignant emotion. Like his successors in the indie world, Hartley uses crosstalk dialogue to define his characters' relationships. Unlike them, he ensures that the dialogue proceeds at a rapid pace (no mumblecore here) that harkens back to the best screwball comedy, albeit with an existential tinge.
The film's visuals are equally stylized, as Hartley frequently frames his characters in medium shots and close-ups that obliterate the world around them. A gambit seen several times here is a fixed view of the character as she or he is besieged by questions and suggestions from their (offscreen) friends and relatives. By doing this, Hartley creates a deep connection between the viewer and the character, and supplies a "picture" of their alienation that is worth the thousand words being thrown at them.
Slinging those words is an absolutely terrific cast that ranges from character people (Merritt Nelson, John MacKay, Matt Malloy) to highlighted supporting performers like the young Edie Falco (3 Backyards), who plays Shelly's cynical older sister. Donovan, who went on to work with Hartley several times after Trust, expertly incarnates our antihero, a gent who veers between being a besotted romantic and a dire cynic. Shelly, who tragically died at the young age of 40, shines in the lead role, portraying a young woman who won't allow herself to be manipulated by those around her.
Shelly is heard from in a charming "making of" featurette from 2005 included on this disc. She reveals that she was very ill during the shoot, and that Hartley did not encourage his actors to ad-lib ("with Hal, it's like every word has to be exactly as it was written"). For his part, Donovan notes that he initially argued a lot with the filmmaker, but the anger quickly faded.
Shelly provides the single best insight into Hartley's method by repeating his request to her concerning her performance, "Less, less… give me less…."