STUDIO: Shout! Factory | DIRECTOR: Barry Shear and others | STARS: Ernie Kovacs, Edie Adams, Bill Wendell, Joe Mikolas, Jolene Brand, Bobby Lauher
RELEASE DATE: 4/19/2011 | PRICE: DVD
 $69.95
BONUSES: interview with actor Jolene Brand and friend George Schlatter, home movies, additional sketches, movie trailers created by Kovacs, Kovacs and Edie Adams TV commercials
SPECS: NR | 780 min. | Comedy | 1.33:1 fullscreen video| Dolby Digital mono audio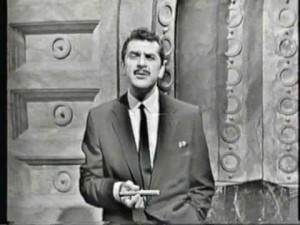 The Ernie Kovacs Collection is an invaluable addition to the small number of DVD box sets devoted to seminal 1950s TV.
It also offers further evidence that, while Milton Berle was the first popular variety show host, Sid Caesar was the all-around funniest, Steve Allen the wittiest and Jackie Gleason the most durable, Kovacs was the only television comedian of his era who crafted sketches and visual images designed explicitly for the medium of television. Thus, his best material seems eternally fresh and also incredibly familiar — thanks to its having influenced shows from Laugh-In to NBC's Late Night With Conan O'Brien.
This six-DVD box is structured chronologically and is without question a feast for Kovacs fans, supplying as it does some of the rarest material that has survived. The reason such a sizable library of material exists is because it was admirably archived by Kovacs' widow and talented costar, Edie Adams.
The set starts in 1951 with his first network daytime show It's Time for Ernie and ends with the strikingly innovative specials he made for ABC before his premature death by auto accident at the age of 42 in 1962. We therefore encounter three Ernies: the local DJ looking to creatively fill local TV broadcasts; the talented character comedian who hosted network variety shows; and the video artist who devised gorgeous ways to innovatively "visualize" pieces of music, from classical to "lounge."
Those unfamiliar with Kovacs' work should start with the last three discs, as they represent his best work in the medium. Diehard fans should be aware that Shout! Factory has made a seventh disc (featuring equally rare material) available, but in a somewhat unique marketing move, only through purchases of the box on the Shout! Factory website.