STUDIO: BBC | DIRECTORS: Ricky Gervais and Stephen Merchant | STARS: Ricky Gervais, Martin Freeman, Lucy Davis, Mackenzie Crook, Ewen Macintosh
DVD RELEASE DATE: 11/22/11 | PRICE: DVD $39.98
BONUSES: new intros to first season episodes, web videos, "Comedy Connections: The Office," commentary for the Xmas special, deleted scenes, outtakes, music videos, "video diary," Golden Globes featurette
SPECS: NR | 450 min. | Comedy | 16:9 enhanced | stereo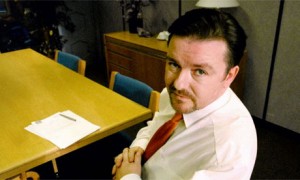 Coinciding with the 10th anniversary of the first season of the original British TV comedy series The Office, BBC's deluxe four-DVD box set includes new supplements and the full run of the series (12 episodes and the wrap-up Christmas special).
The collection reminds us why Ricky Gervais (Spy Kids 4) is a celebrity in the first place and of how remarkably timeless The Office is and how influential it became in the 2000s. The series is a known commodity in the U.S., thanks to airings on BBC America, Adult Swim on the Cartoon Network and select PBS stations, and, of course, its long-running, shark-jumping NBC adaptation of the same name. Thus, fans of the series will already have collected the episodes in some fashion — so what about the supplements found here?
The primary draws are a series of five-minute introductions to each first-season episode (none for the second), which were shot at the same time as a series of web videos, also contained in this DVD set. Interviewees include the show's co-creators and directors Gervais and Stephen Merchant (Cemetery Junction), and its stars (Martin Freeman, Lucy Davis, Mackenzie Crook, Ewen Macintosh). Also serving as talking-head commentators are Christopher Guest (For Your Consideration), screenwriter Richard Curtis (Pirate Radio), British comedian David Baddiel and fan of the show Matthew Perry (17 Again).
The most interesting topics touched on in the intros and web videos are Gervais and Merchant's canny use of the documentary form for the show and the "failed comedian" aspect of Gervais' character David Brent. Gervais stresses that the documentary format gave Brent "his own series" and thus his over-the-top behavior. The talking heads also speak about the touching romantic subplot that involves Freeman and Davis' characters and Gervais' tendency to burst out in laughter at the drop of a hat (represented in this box at length in the series outtakes).
An episode of the TV series Comedy Connections devoted to The Office tells of the genesis of the show, as well as where its stars have wound up in the years since. Included is an interesting list of people and programs that Gervais and Merchant admit they borrowed from ("we ripped off the best!") to create the show: Laurel and Hardy, This is Spinal Tap, The Simpsons, Woody Allen and The Larry Sanders Show.
The most valuable new supplement on this DVD is the pilot for the series, in which Gervais played Brent for the first time. The situations (a lecherous job interview, a dismal practical joke, etc.) were so well-etched that they wound up appearing in the first season episodes. Still, it's interesting to see that Merchant and Gervais could have delivered the exact same series with or without a BBC budget.
A few of the special features are in previous Office DVD boxes, with one particular item gaining added resonance. When he's asked in a featurette on the Golden Globes ceremony, where the show nabbed two major awards, what he will do with the award he has won, future "problematic" GG host Gervais answers instantly, "it's great for shoving up your ass!"