STUDIO: Criterion | DIRECTOR: Aki Kaurismaki | CAST: André Wilms, Kati Outinen, Jean-Pierre Darroussin, Blondin Miguel, Little Bob
RELEASE DATE: 7/31/12 | PRICE: DVD 29.95, Blu-ray $39.95
BONUSES: Cannes press conference, TV interview with director and cast, Andre Wilms and Kati Outinen interviews, Little Bob concert footage
SPECS: NR | 93 min. | Foreign language comedy | 1.85:1 widescreen | Dolby Digital 5.1/DTS-HD Master Audio 5.1 | Finnish with English subtitles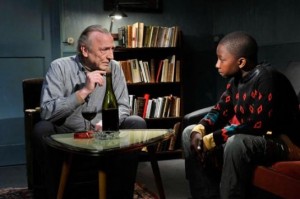 Finnish auteur Aki Kaurismaki (Leningrad Cowboys Go America) is one of those very special filmmakers who has created a world all his own. In Le Havre that quiet, working-class world is situated in the titular French seaport, as a stoic and big-hearted shoeshine man (André Wilms) decides to help an African refugee (Blondin Miguel), while his wife is suffering from a fatal malady.
The above could be the synopsis of an old-fashioned melodrama or "message picture" about the thorny subject of immigration in Europe. Kaurismaki's film is both of those, as well as an impeccably deadpan comedy and a humanist picture, made in the tradition of the great Italian Neo-Realists (De Sica, Rossellini) and the French filmmakers of the Thirties and Forties (Carné, Becker, Clair). The fact that Kaurismaki carries all this off and Le Havre still qualifies as a "small movie" (in the best sense of that phrase) is a testament to his immense talent.
The film functions so beautifully it needs no dissection or explanations but, this being a Criterion release, we learn in the delightful extras about Kaurismaki's motivations for making the film, and can revel in his characteristically wry and pseudo-sarcastic pronouncements about the creative process. He is present only in video material shot at Cannes and in a very eloquent print interview included in the two-disc set's booklet, but his no-b.s. attitude is felt throughout.
At the Cannes press conference for the film, Aki is seen desperately trying to smoke on the panel (a no-no these days at the festival) and joking around, until he answers a reporter's question about the film's deeply moving tone by saying, "The more skeptical and cynical I get, the more soft are my films…."
The odd juxtaposition at the core of the film — a resolutely deadpan "fairy tale" that treats extremely serious topics with a wealth of beautifully reserved sentiment — is revealed in this statement. We also understand why Kaurismaki's cast and crew are resolutely loyal to this seemingly prickly individual.
That feeling comes across in the two interviews included here as extras. The very eloquent Wilms maintains that he chose two stonefaced heroes as the models for his character, Buster Keaton and Robert Mitchum. He also discloses that Kaurismaki's directions to his actors were twofold: "act like old gentlemen, please" and "no running!" (Aki feels there's far too much running in contemporary cinema.)
The film's female lead, Kaurismaki regular Kati Outinen (The Match Factory Girl) — often said by critics to possess "the saddest face in the world" — is represented by a full-length interview she did for the Finnish talk show Strawberry Place. She speaks eloquently about her career as a performer and work with her cinematic mentor, but is also quite candid about how her Best Actress award at Cannes (for Kaurismaki's The Man Without a Past) didn't exactly boost her career.
And, in one of the set's biggest surprises, the usually dour Outinen is also seen singing, dancing, clowning, and (gasp) smiling broadly in a clip from a TV variety show.