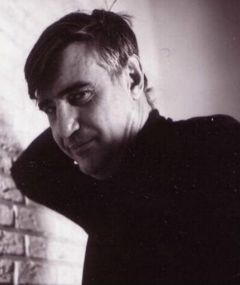 For many porn viewers, the plot is that thing you fast-forward through on the way to all the good stuff. There was a time, though, when fast-fowarding wasn't possible and some of the plots were actually worth watching — especially when they wound up being kinkier and more provocative than the sex scenes. In recent years, a cult has sprung up around one of the few Americans who made this kind of consistently sexy and smart skin flick, Joe Sarno. Sarno's movies are quieter and have a slower, more deliberate pace than today's Playboy Channel and "Skinemax" fare, but they make an incredible impression because of the way Sarno inserted raw sensuality into highly melodramatic and sometimes downright strange storylines.
Still working in film today at the age of 84, Sarno is an icon in the adult biz for having made the best examples of two different '60s trends: the low-budget "suburban roulette" tease and the Swedish nymphette arthouse pic. His most amazing couple-swap movie has to be Sin in the Suburbs (1964), a compellingly lurid movie about a teen who joins a suburban sex-orgy club in which the participants wear hooded cloaks and masks (can anyone say Eyes Wide Shut?). Sarno offered the proper amount of nudity for a '64 flick, but also was bold enough to give the film a startling, tragic finale in which the teen's mom discovers her daughter has been a member of the same "swing" club that she's in.
The most striking thing about Sarno's Swedish movies is that, despite the fact that he's an Italian-American who's lived most of his life in NYC, they look and sound exactly like the I, a Woman school of Swe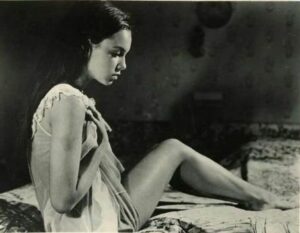 dish erotica. Inga (1968), currently available from EI Cinema, is the best known Sarno title, and it has many of his trademarks: a nubile girl being liberated (and deceived) by the men and women in her life, lush nude make-out scenes, and interludes in which the characters sink into a melancholy mood after having had, or thought about, sex. Sarno's movies frequently focus on hedonistic moments of pure pleasure indulged in by ripe young babes, who wind up reflecting to themselves after the climax comes.
When asked about this theme in his movies, the talented filmmaker – who has no problem with referring to his films as "exploitation" – is quick to deny any connection between sex and sadness in his movies. "Guilt isn't a big thing in my films. I'm not commenting on sex per se, but talking about relationships, which are very important to me. [The sadness] has nothing to do with sex, it has to do with the people."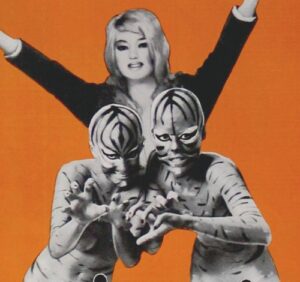 For the most part, the actresses in Sarno's movie never went on to greater glory – one exception was adorable Inga herself, Marie Liljedahl, who was voted "Sex Star of 1971" by Playboy. These sexpots shone, however, under Sarno's dedicated and friendly direction. "With nudity you've got to get your cast comfortable or else it doesn't come off," he observes. Two of his most enticing titles involved actresses wearing makeup and body paint in place of clothing, Swedish Wildcats and Young Playthings (1972). Wildcats features former sex symbol Diana Dors as a sleazy nightclub owner who pimps off her two nieces when she's not having them perform onstage with several other sleek young babes as animals, each lady done up in bodypaint to suggest a leopard, a panther, a tigress, etc. Young Playthings, Joe's most memorably fetishistic movie, offers us a group of free-thinkers who perform little plays in their apartment building sporting only hats, capes and mime makeup (only Joe could make the idea of a topless mime-chick so appealing).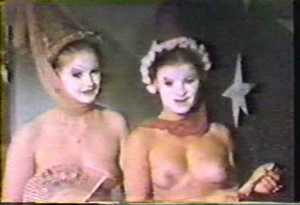 Both movies deal with the idea of sexual "ceremonies," nude rituals that can turn on an audience (Wildcats) or add some spice to a lackluster love life (in Playthings). For Sarno, though, the decision to go with nudity-as-a-costume was primarily a pragmatic one. "Those outfits added color to the movies, I was primarily thinking in terms of color," he notes. But what about the ritualistic aspects of sex on stage? Critics may analyze his movies for deeper meanings (which are definitely there), but Joe responds in a down-to-earth fashion: "I wanted something that wasn't 'everyday.' In those movies I was looking to take the audience away from the everyday idea of costuming."
Reflecting back on the post-Deep Throat period, Joe declares "hardcore just wasn't my thing," but he did work on a few triple-X features, usually under a pseudonym. One feature that fits snugly in with his other films, but frequently borders on hardcore is Butterflies (1975). Here Throat star Harry Reems plays a playboy nightclub owner who toys with a Swedish farm girl he picks up as a hitchhiker.
Butterflies is missing the strange erotic charge of Playthings and Wildcats, but it does offer the sight of various ladies being tended to by Reems, and it has a memorably groovy rock soundtrack. As an American making movies in Sweden, Sarno had access to different kinds of music than was being heard in the hipper American nudies made by the likes of Russ Meyer. Consider, for example, the fact that his very twisted incest drama The Indelicate Balance (1969) is perfectly punctuated by classical pieces performed by the State Orchestra of the USSR. Then treat yourself to The Seduction of Inga, Joe's 1972 sequel to Inga, which has a rock theme that will burn itself into your brain even though it contains only one word ("Ing-A!"). The two gents who supplied this fatally catchy song, a duo by the name of Benny & Bjorn, went on to found a little band with their main squeezes called ABBA.
Joe may have stopped making sex sagas back in the '80s, but he never retired; since then he has kept busy as a film "doctor" and worked on documentaries. In 2004, he returned to the skin trade to write and direct a new erotic drama, Lust for Laura [eventually released as Suburban Secrets], coming soon from EI. The film concerns the tangled relationships that ensnare a woman when she returns to her hometown from "the big city." As was always the case with Joe's movies, there will be ample nudity and, no doubt, sex scenes that actually move the plot along! Joe's approach remains simple: "the story is the thing," he emphasizes. "If you have strong characterizations, [the sex] can melt right in with your story."
We'll be eager to see what Lust for Laura brings us in the way of psychological torment and physical pleasure. Since both Sarno and EI have a rep for doting on lesbian couplings, there will surely be some eye-opening encounters among Joe's new group of "young playthings"…. —Ed Grant
(First published in Celebrity Skin and used with the written permission of the author and publication of first instance.)