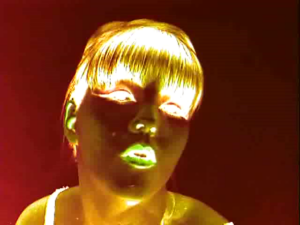 If adult movies are indeed a sort of magical, perverse window into the times in which they were made, the newly rediscovered softcore flicks of Nick Philips offer a peephole (or is that gloryhole?) into the ways in which the "free love" revolution of the late 1960s was viewed by the average American male. Philips' movies depict hippie chicks experimenting with lesbian sex, fetishism, light bondage and drugs, and suffering harshly as a result. Whether you find it artistic or incoherent, kinky or just downright sleazy, his porn is so distinctive that it immediately commands your attention.
With sixteen of Nick's movies from the period 1967-75 having debuted on DVD in the last two years on two different labels (Retro Seduction/EI and Guilty Pleasures/Media Blasters), and more set for eminent release, it's time to explore exactly what makes these pictures so compulsively watchable to both fans of vintage porn and camp-cult melodrama, and also to find out who made these strange relics from another, far kinkier era.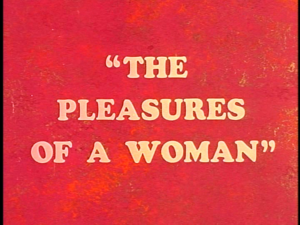 The first thing that strikes viewers used to the better-known softcore "auteurs" of the period (Meyer, Metzger, Sarno) is the anonymity of Philips' movies. Each one begins with a single title credit (in quotes for some reason) and the film begins, with not a cast or crew name in sight. The movies similarly grind to a sudden halt and a solitary "The End" card appears on screen, sometimes before the last scene could be fully understood. Adult movie historians would ague that the lack of credits was a savvy move on Philips' part, intended to dodge the legal troubles that plagued pornographers even after the landmark Deep Throat court battles.
But Philips himself (real name: Nick Millard, pictured at right with his wife Irmgard, is now age 64 and still making movies) attributes most of the hallmarks of his style to a lack of finances: "That was a way to save a buck. Titles cost money… Basically it was an economic thing, you know what I mean – save the money and use it for better things."
Nick's frugal methods of filmmaking and his kinship to the adult industry were a legacy from his father, S.S. Millard, a legendary producer and distributor of roadshow adult pix. "My father said he was the second man in the adult film business after a NY distibutor named Sam Cummings. His biggest hit was a piece of junk with the great title Is Your Daughter Safe? (1927) that was an Ed Wood-like bunch of scraps. He produced the films, and would then literally put the can of film in the trunk and go on the road, show the picture in Little Rock, Arkansas one week, Fort Wayne, Indiana the next."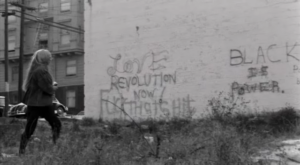 Although Nick, too, once worked as a distributor and even managed a theater for a time in Sacramento, California, his primary work for the past four decades has been as a low-budget filmmaker. He inherited his father's traveling ways, though, and wound up filming softcore features not only in his hometown of San Francisco (right), but also in Paris, Munich, Spain and Denmark. Thus much of his softcore has a travelogue aspect to it, as his tortured lesbian characters walk the streets of the Haight-Ashbury (Sappho 68, seen at right), Munich (Birgitta), or Madrid (Passport to Pleasure) – in the latter film, we see an entire bullfight in between the couplings.
Nick professes a love for the French New Wave, Orson Welles, and other arthouse masters. This may seem incongruous when discussing a man who made features with titles like Fire In Her Bed and Fraulein Leather, but the foremost feature of his pornos, made from 1964 to '74, is an element he cribbed from European cinema and literature. The movies rarely have direct sound or dialogue, and are instead narrated in the first person by a perpetually horny, self-loathing female.
Philips used different actresses to perform this function over the years, and so these unsung heroines – performers Kimberly Cohen, Carol Daniels, Priscilla Alden and others – would be responsible for conveying the pictures' faint storylines and also expressing the character's feelings, which run hot (feverish les-lust) and cold ("we were quite happy in our dark, ugly, degenerate world" declares the heroine of Pleasures of a Woman).
At times, Nick journeyed into Russ Meyer territory, and would have his smoky-sounding narrators recite a free-version inventory of hyperbolic phrases that made the movie sound more like a trailer, as when the narrator of Passport talks about "images of the bizarre, extraordinary cinema, white-hot bitch heat, moist love, soft lips, hungry vaginas, screaming clitorises, hard phalluses, slick tongues…insatiable audiences!"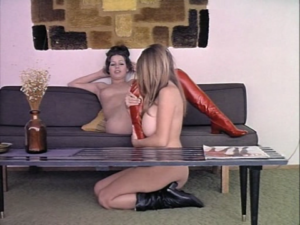 At other moments, one begins to question whether the "moral and redeeming social value" that Philips mentions he included in his pictures to get them past the censors motivated the constant put-downs of sexual freedom that punctuate the narration. Nick is a practicing Catholic who denies that his faith has had any effect on his moviemaking, but our sexy femmes' description of themselves and their partners as "perverts," "degenerates" and "bitches" while they cavort onscreen makes one wonder exactly what is up. The horny heroine of Pleasures of a Woman broods at one point, "Now I'd become a lesbian pillhead, which is slightly better than being a two-headed freak."
The most striking aspect of Philips' porn, however, has nothing whatsoever to do with his frugal approach to filmmaking or the "socially redeeming" suffering of his heroines. His work is rife with kinky sequences in which his lovely hippie chicks, and legendary softcore icons like big-chested Uschi Digart engage in fetishism, bondage and leather worship. His women are quite often drawn to each other's boots and shoes, and proceed to lick the footware or use it to get themselves off. In Fraulein Leather, our horny heroine enthusiastically purrs, "one shoe, one boot, an exciting choice of pleasures, like one scoop of vanilla and one of chocolate…."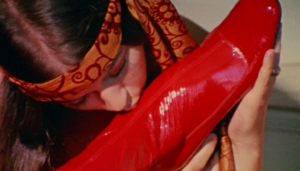 When questioned about the fact that shoe and high-heel worship occur in quite a few of his adult movies, Nick notes that "fetishism kinda got you around the censors" who presumably couldn't figure out what to cut when a woman went to town with her friend's stiletto. He doesn't shrink away from this unique element in his pictures, proudly proclaiming, "you've gotta know a little about sex if you're going to make sex films….".
When asked about his own tastes in ladies footwear — and yes, some of his hippie chicks remained barefoot throughout their sequences – Philips expresses amusement that "women still feign innocence, they'll say 'we didn't know these four-inch heels are sexy!'" As for today's platform heels, "it's like looking at a person with a clubfoot." His taste runs more to old-fashioned "sexy high-heeled shoes, like the ones from that guy Manolo Blahnik."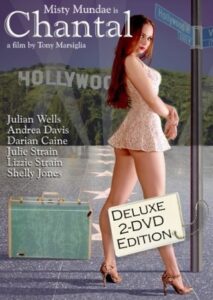 "I look at the old stuff and still get turned on," Nick cheerfully reflects on his adult work. He may have chosen to stop making porn in 1974, but viewers will continue to be intrigued, amused and turned on, as more of his long-unseen softcore titles appear on DVD: EI's Retro Seduction label will roll out three more in the coming months. Nick is flattered by the remakes of his pics that are being produced by the folks at Seduction Cinema; Chantal will soon hit video stores, starring fan favorite Misty Mundae, whom Philips describes as "a sexy little tomato."
He spends little time doting on the past, though, as he has kept on making ambitious low-budget features in every genre from horror (his much-beloved over-the-top slasher pics Criminally Insane and Crazy Fat Ethel 2) to biopics (Howard Hughes) to remakes of classic tales (Faust). His current roster of projects includes one title that could prove to be his long-awaited return to fetish filmmaking, Women Extreme: The Helmut Newton Story. We can only imagine what Nick, the man who gave us the ultimate junkie-hooker picture, Roxana, and the finest leather-lesbian feature ever, Fraulein Leather, could do with a biography of the lord high priest of kink photography. — Ed Grant
(First published in Celebrity Skin and used with the written permission of the author and publication of first instance.)